Day 13: Interview With A Blogger
I love interacting with other bloggers, I firmly believe we should spread love and support which is why I was so excited to do this post today. I follow a few blogs religiously, one of them being
Life Of Amy
. Amy has been an incredible supporter for this blog pretty much from day one. So it felt right to interview her, I'm so glad she said yes!
Thanks for letting me interview you lovely! Do you want to tell us a little bit about yourself first?
No problem, thank you for having me! I'm Amy, I'm 22 and I run a lifestyle blog as well as working in an office full time. I enjoy many things but I'm sure you'll get to know me more with the questions to come!
Your blog is on fire right now, are you doing anything differently since your mini break away from the blogging world?
In my eyes a blogging break does the world of good. Your passion. Your writing. Your ideas. Everything improves after a break. It makes me so happy to hear that you think it's on fire. I'm focusing a lot more on bringing worthy content. I've put more effort into my SEO than I ever have before. Aside from that, I'm writing for me and things that I'm passionate about. It comes more natural that way. Hopefully it pays off.
How do you manage to juggle blogging and a full time job? I know I haven't quite grasped that yet.
It's bloody hard let me tell you. As well as trying to have a social life and go the gym! It's all about balance really. I blog when I can. I'll schedule tweets on my commute to work. I'll take photos in bulk. When I'm feeling inspired I'll make notes or I'll write up a post using my app and I'll edit it later. The majority of the time I'll spend my whole Sunday blogging.
You sound so organised! What is your favourite social media platform?
Twitter by far! It's the best platform for bloggers in my opinion. I do love Instagram but the interaction just isn't the best.
I completely agree. I also love the gifs you use in tweets. What is your go-to gif?
I use so many gifs, there's one for every mood but my top gif for blogging has got to be this. I love using it for promo tweets. Of course any gif to do with sleeping or pizza I love.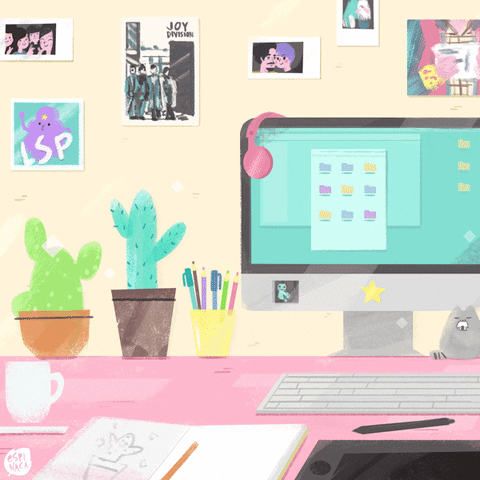 You can't go wrong with a pizza gif. I've noticed you include quotes in some of your blog posts, what is your favourite quote?
Yes I love adding little quotes that fit into my theme! I actually got the idea from my cousin, who also blogs. My favourite quote is probably "
Sometimes you gotta fall before you fly
". I just love quotes that remind you it's okay to fail. As long as you keep trying - you'll get there eventually.
I love that quote! You're pretty open to your readers, but what is one thing your readers would be surprised to hear about you?
I ran through a field of corn. Just kidding and I'm sure you got the reference! I'm not sure to be honest, maybe when I was younger and I spent the whole night on Crosby beach with my friends, drinking, partying. I had a wild teenage stage. My mum however believed I was an angel.
I definitely got the reference haha. It was 2017's biggest meme I think. Is there anything you are obsessing over right now?
Definitely! I'm always obsessing over things. Right now I'm stalking Olivia & Chris on every social media. As well as every other islander. I think I'm in denial that it's over. Also - I'm obsessed with Game of Thrones which is probably a given for everyone right now.
SNAP! I don't know what to do at 9pm anymore. They all seem to be living the dream at the minute though. What is your dream job?
My dream job used to be a fashion buyer. Now, I'm not sure. I'd love to be a full time blogger but I think it would suck the fun out of it. My dream job would be something creative that challenges me daily and keeps me interested. Along with well paid, enjoyable and like minded colleagues. Dog allowed, flexible time and no favouritism. Is that too much to ask for? If you know a place, let me know where I can sign up.
Definitely not too much to ask for, I'll keep my eye out for you lovely! Let's play a quick 'Which do you prefer' game to get to know you better;
Tea or coffee?
Tea!
Sweet or savoury?
Sweet by far!
Early bird or night owl?
Both! Of a weekend I'm a night owl and through the week I'm an early bird.
Night in or night out?
Again both! I love a cosy night in with food and good TV. However, catch me on a night out and there's no stopping me.
Make-up or natural?
Make-up mostly! I do love a make-up free Sunday though.
Chris or Kem?
Chris
Thanks again for letting me interview you lovely! One final question - what advice would you give to newbie bloggers?
Remember to be yourself, have fun and don't put to much pressure on yourself. It's been my pleasure, thanks for having me!
Be sure to follow Amy on all of her social media accounts.
All my love
xo
If you have any questions regarding this post, require advice or just simply want someone to talk to, please don't hesitate to email me at - safehavenanonymousletters@gmail.com - with the subject 'blogger interview'.
Don't forget to mention me in your 30 day challenge tweets - @SH_anonletters - for a RT.